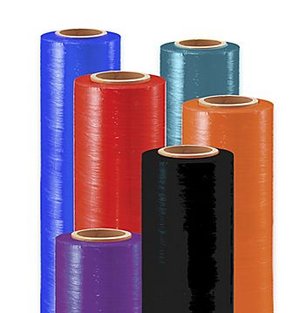 Be part of the essential SUPPLY CHAIN in the US
Digital Marketers and National Sales Reps
US Film and Foil ( Paris Plastics ) is just one among many organizations pioneering the alternative workplace (AW)—the combination of nontraditional work practices, settings, and locations that is beginning to supplement traditional offices. This is not a fad. Although estimates vary widely, some 50 million to 80 million people in the United States are now either telecommuters or home-based workers.
Why the shift and who's to blame.
To sum it up in two words: Money & Motivation.The most obvious reason is cost reduction — by eliminating offices people don't need, consolidating others, and reducing related overhead costs. We use a widely accepted AW program called "Mobility Initiative",
Another reason is the increase in productivity. Employees in the alternative workplace tend to devote less time and energy to typical office routines and more to customers. 87% believe that their personal productivity and effectiveness on the job have increased significantly. And finally... who do we get to blame for AW trend? COVID of course.
Merits are still required:
The alternative workplace also can give companies an edge in keeping—talented, highly motivated employees. The corporate environment is difficult to maintain positivity in a position, especially after 6 years as studies have shown.Initiatives help us retain experienced employees who find the flexibility to work from home, or their own office, especially attractive. We offer substantial incentives, ones that we would never imagine offering before COVID. In addition, many communities are easing zoning rules to enable more residents to establish home offices & tax codes may, or are in the process to change to enable more employees to deduct home office costs, fuel, car expenses, etc.
As mentioned, positivity [ and other traits ] are extremely important. SELF-DISCIPLINE, SELF-MOTIVATION and SELF-EXECUTION are the determining factors along with attitude, aptitude, honesty and strong communication skills to determine if you are a candidate for AW. These traits are generally not teachable.
Salary $77,000 (FL) $86,000 (ATL) $106,000 (SD)
Hiring Time: 7-12 weeks

Paid December Benefits - NO

Required Hours: 55 plus hours. Non-Flexible
Commission: NO
Background Check: YES. Extensive
Tax Write offs: NO
Residual Income: NO
Write your own Purchase Orders? Yes
Health and Investment guidance: Yes. After 1 year
Digital Marketing Monthy Incomes
Contact: George Franklin, Human Resources 585-622-4429
Accelerate your earnings and digital career
EBAY LISTER: Experienced: $11,648 , No Experience: $561 per month
Income Data compiled July, 2021
CRAIGSLIST (and other non-verifiable classified sites): Experienced: $974 , No Experience: $832
FACEBOOK MARKETPLACE: Experienced: $4,871 , No Experience: $2,302 per month
ALIBABA: Experienced: $18,013 Month, No Experience: NO DATA
SHOPIFY: Experienced: $14,344 Month, No Experience: NO DATA
HUBSPOT: Experienced: $26,275 MONTH , No Experience: NO DATA
AMAZON: Experienced: $44,293 month , No Experience: $1,944 per month
GENERAL B2B ad web placement: Experienced: $13,882 Month , No Experience: $6,912 per month
Corporate Offices ( Manufacturing Plants ): San Diego, Atlanta, Tampa, FL
If you're a customer-obsessed person and would enjoy distributing our products - this is the idea opportunity for you. As an owner, you'll be fully responsible for marketing and selling. Access to Paris' exclusive manufacturing discounts on a suite of products & services allows you to be profitable immediately. We provide the back office, purchase orders and drop-shipping to streamline your operations.
Successful Distributors can expect:
Annual Revenue Potential:
$0 NONE until January, 2022
Positions Available- Salary W-2 Income
Salary Type: Commission, Freelance, Manufacturing Reps
Hiring Time: 6-10 days

Paid December Benefits - YES

Required Hours: Flex, Remote
Commission: $116,000 Estimate + Residuals = $146,000 +/-
Background Check: NO
Tax Write offs: YES
Residual Income: YES
Write your own Purchase Orders? NO ( Corporate )
Health and Investment guidance: NO and YES ( Immediately )
Positions Available- Freelance, Commission, 1099 Income